Known to history as Highland, this community was once the Arapahoe Indians' winter camp and a stage stop en route to the mining camps.  Not to be confused with the later Highlands neighborhood to the northwest of Denver, or Highlands Ranch to the south, Highland was a brief chapter in the life of the adolescent Denver.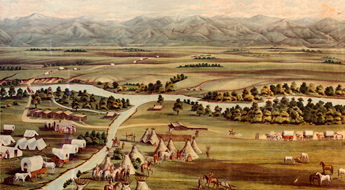 The first townspeople in the Highland neighborhood were primarily English and German. The German immigrants were in search of work, and the brewery business was booming. Established in 1859, the Rocky Mountain Brewery called Highland home. Being the first brewery between the Mississippi River and the Pacific Coast insured prosperity for the owners, John Good and Philip Zang. Originally delivered by Zang himself with his trusty wheelbarrow, the brewery soon was producing enough to show a profit. Zang sold his share of the business in 1889, but the company continued to flourish and was putting out 175,000 barrels daily by 1917. While the brewery suffered from several fires and is no longer a piece of Denver's skyline, the Zang mansion still stands on at the corner of 7th Avenue and Clarkson Street. Denver City and Auraria flanked the Highland area. There was no law in town, and a wild west atmosphere prevailed. Women would often have their shotguns close at hand while gardening or hanging the wash. In fact, there were frequent duels and murders in the Highland area, resulting in hangings at 15th Street bridge.
In 1859, the rival Auraria and Denver City decided that the best strategy to combat the constant warfare for dominance was to merge. In the merger they also swallowed up Highland. The Denver Children's Museum and the Downtown Aquarium now reside on what is left of Highland.
Sources:
Wiberg, Ruth Eloise. Rediscovering Northwest Denver. Boulder, CO: Pruett Publishing Co. 1976
Wilk, Diane. The Potter-Highlands District. Denver, CO: Historic Denver. 2004