Highlands Real Estate
The Highlands neighborhood, to the northwest of downtown Denver, was founded in 1875.  Finding the inhabitants and their activities in Denver dirty and immoral, the new town's ambition was to strive for Utopia and rail against anything that would turn their moral compass. In fact, there were ordinances against flying kites, playing marbles, tossing balls or any other potentially noisy activity. They sought to make illegal any language that would be offensive or vulgar. Naturally, against these high standards of behavior, there were no gambling halls or saloons in the Highlands. Of course, the liquor license fee was $5,000.00, a fortune at the time.
This unparalleled strength of civic character was a huge selling point to the earliest citizens. These proper Victorians felt that one should work in Denver, but return home to the Highlands in order to maintain a cleaner soul. The leaders of the fledgling community fortified this cleaner living by promoting their gardens, schools and clean air.
With its upwind, elevated placement, the area was sought out for its clean air by those residents fed up with polluted, odiferous quality of the valley below which had become continuously smog-filled by the multitude of smoky smelters. This healthful attribute also attracted tuberculosis sufferers from across the country. The only known treatment at that time was clean, dry air, rest and quality food. With this in mind, a hospital specializing in the care of TB patients was constructed in 1894.
The Highlands neighborhood was also the beneficiary of a gift from Mother Nature. The town is located above a large artesian water source.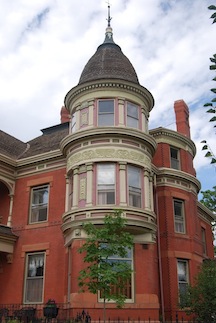 Denver home in the Highlands neighborhood.
This water was pure and much more attractive than Denver's water, which was procured from a series of ditches and reservoirs. The country's first artesian water company was located in the Highlands.
The rapid influx of people and the subsequent offspring prompted a boom in school building and an emphasis on education. North Side High School was built in 1888 and shared its roof with Ashland Elementary. However, the two schools soon grew too crowded. The present-day North High School was built in 1911, and has quite a few illustrious alumni featuring judges, artists and even a prime minister. Lake Middle School is another of Denver's beautiful public buildings. Built in 1922 by hometown architect Burnham Hoyt, the school overlooks Sloan's Lake and looks at the front range of the Rocky Mountains.
As the Highlands grew in popularity, it began to develop into six distinct neighborhoods within its own borders. These areas are referred to as Highland (sometimes called East Highland), West Highland, Sunnyside, Berkeley, Sloan's Lake and Jefferson Park. Potter-Highland is a historic district that comprises much of the East Highland neighborhood.
The Highlands neighborhood began to fall in disrepair in the 1950's-1970's as Denver residents fled to the suburbs. Many of the beautiful homes and businesses were razed as they became unsafe or unnecessary. Fortunately, in the 1990's, the rebirth of downtown Denver, or LODO, began to attract a new generation of homeowners and businesses to the Highlands neighborhood. With its close proximity to downtown Denver, it is a logical choice for many people to live and work in this lovely, historical area. The large Victorians, Four Squares (Denver Square), bungalows, and brownstones are being revived and restored. There is also a large amount of new development taking place that is quite contemporary in nature. Highlands Square is found at 32nd and Lowell in West Highlands. This stretch of six blocks emits a charming "Main Street" feeling and offers a surprising array of coffee shops, boutiques and cafes. LoHi is found in East Highland and is a hotspot for lofts and condos.
If you would like to take a closer look at the Highlands, or any other Denver real estate, please contact Jesse Sehlmeyer of  Vintage Homes of Denver,  303-564-2245.
Sources:
Wiberg, Ruth Eloise. Rediscovering Northwest Denver. Boulder, CO: Pruett Publishing Co. 1976
Wilk, Diane. The Potter-Highlands District. Denver, CO: Historic Denver. 200